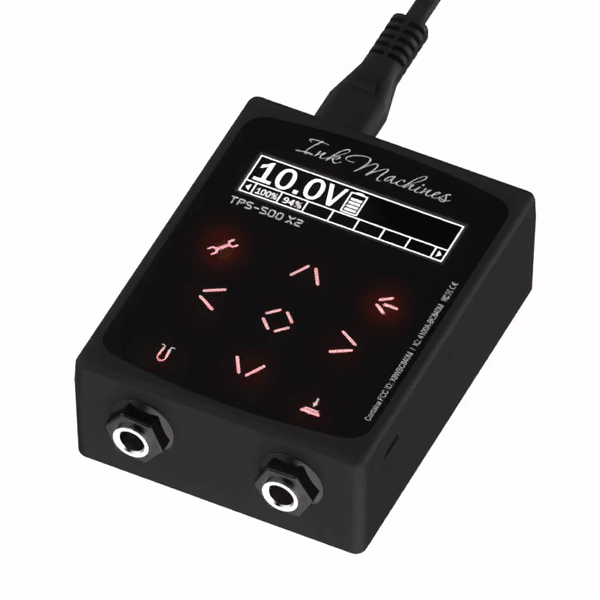 The TPS-500 X2 is our third gen wireless power supply. Designed as a modular system so that charger bay and other accessories can be added to the main unit. Small size without external power supply (adapter) makes it ideal for traveling.
NOTE! Powerpacks and charger bay are not included in this product.
Built with the latest BLE technology with long range antenna, multi color touch panel and graphical display. 
The TPS-500 system can be customized to suit your needs and combine your tattoo machines whether it's a Scorpion, Dragonfly, Stingray or a coil machine.
 
Modular system, charger bay and battery types can be replaced
Travel size without external power adapter
Wireless Powerpacks available for all InkMachines tattoo machines
Wireless foot switch available
Neorail with stand available for Neo-cartridges and Scorpion
Hygienic and ergonomic, no cable to machine.
LCD display with easy to use interface
High capacity batteries to handle the most demanding sessions
Charge up to 5 units simultaneously with charger bay
Built in kick start ensures startup at low voltage (not needed for Scorpion)
Boost mode = more power and torque when needed
Runs regular coil and rotary machines with cord
Smartphone app enabled
Output: 5-13V
Compatibility by cable: Various machines and foot switches
Connections: 1⁄4 phono (6.35mm)
LCD display: 55x14mm
Powerpack Weight: 65-80g
Powerpack Capacity: Aprox 6-10 hours
Powerpack Battery life: 500 full charging cycles
Powerpack compatibility: Scorpion / Dragonfly / Stingray
Powerpack Charging: Approx 90min
USB-C: YES
Operating temp: 10-35 C Indoor use only
Dimensions main unit: 78x107x35mm