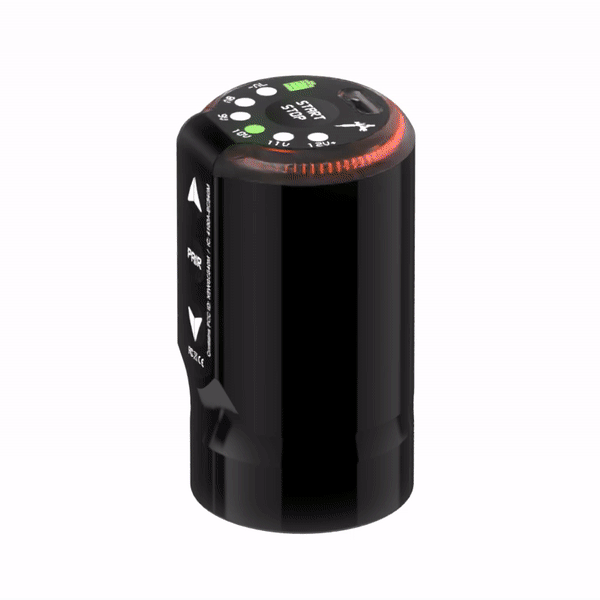 Complete stand alone powersupply for Cobra with the latest technology.
Integrated power supply:
The Cobra Powerpack is a stand-alone power supply with an aluminium casing that integrates into the machine body of the Cobra machine, complete with buttons and status lights to run with or without the TPS main unit. Can be used directly as it is or connected to the new X2 footswitch and / or our smartphone app. Several units can be paired to form a system that suits you. To select the Powerpack / machine you want to use ( if you use more than one machine ) just pick it up and the built in accelerometer will activate just that machine. Every change you make will instantly be stored in each device and recalled when picked up again. The new X2 products can easily be paired to each other with either the buttons on the units or through the app for optimal overview and control of the system.
Bluetooth radio:
The latest BLE technology for low energy consumption,  longer range and more reliable connection.
Charging:
The Powerpacks can be charged with USB-C from a computer or from the TPS and the TPS charger bay and its USB ports.
Led halo:
Multi color led light for easy identification of units. The color can be changed with the app.
Capacity:
Industry leading capacity with 2760mAh lithium batteries to handle long sessions without changing powerpack. Aprox 5-8 hours effective tattooing and recharges in about 90 minutes.
Magnetic contact:
The Powerpack and Cobra machine have magnetic connectors for superior electric connection.
Boost mode: 
Actively controls the voltage to maintain the same speed during various loads and increases the machine power significantly. ( Can only be activated through the app or TPS-500 X2 ).
Capacity: Approx 5-8 hours effective tattooing
Battery life: Approx 500 full charging cycles
Powerpack Charging: Approx 90 minutes
Weight: 79 grams
Size: 35x61mm
Operating temp: 10-35 ̊C Indoor use only

This Powerpack is only compatible with InkMachines Cobra tattoo machine